Park City Interior Designer | Bio - SRE Designs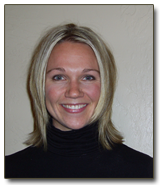 Sarah Bishop, formerly Eidet, knew from a very early age that interior design would be her chosen career path. Sarah graduated cum laude from the Minnesota State University-Mankato in 1998, completed her internship in Minneapolis and then moved out west. She worked as an interior designer in the Salt Lake City, Utah area for five years before moving up to Park City, Utah. During that time, she won Salt Lake City's Parade of Homes Best Design (2001), Peoples Choice (2003), Best of Show (2003) and Best Design (2004). Sarah also was the recipient of the 2005 Distinguished Young Alumni Award from the Minnesota State University-Mankato and the 2012 Woman of Divine Destiny Award from the BBJ Family Foundation.
Sarah wanted to provide for every need of her clients, so she founded SRE Designs in 2006. Her love of color, fabrics, furniture and material selection is apparent with every design scheme she creates. She enjoys working to ensure the design vision is carried out by taking into account the lifestyle, experiences and personal aesthetics of each of her clients. Experience with projects ranging in scope and style affords Sarah exceptional expertise when working with architects and contractors. Maintaining excitement and an enjoyable design process, while creating spaces with personality, is always a priority.
Nothing is more gratifying to Sarah than pleased clients who are comfortable in their homes.